On August 6, in Hunchun (Jilin Province, People's Republic of China), a working meeting was held on the project to create a joint Chinese-Russian Laboratory for Aquaculture of Northeast Asia. Hunchun City ("the city of sea delicacies"), located in the zone of border crossing of China, Russia and the North Korea, is a major transport hub, through it container transportation is implemented, and there is also an important base for processing, collecting, distributing and transporting seafood in the Northeast Asia.
The meeting was attended by the Head of the Center for Aquaculture and Coastal Bioresources of the NSCMB FEB RAS, Ph.D. Sergey Ivanovich Maslennikov, Prof. Huo Zhongming and members of his team from Dalian Ocean University, Member of the Board of Directors, Vice President Mr. Jiang Dawei, and the Head of Research and Development Department Mr. Li Ming (ZONECO Group), and the President of the Company "RuArts" (Shanghai) Mrs. Zhang Chongmei and Executives of the RusRed (Beijing) Food Technology Co., Ltd. Mr. Yuan Jian and Mr. Wang Yicheng. ZONECO Group Co. Ltd, is a large enterprise specializing in the cultivation and processing of seafood, a leader in seafood sales with its own distribution network.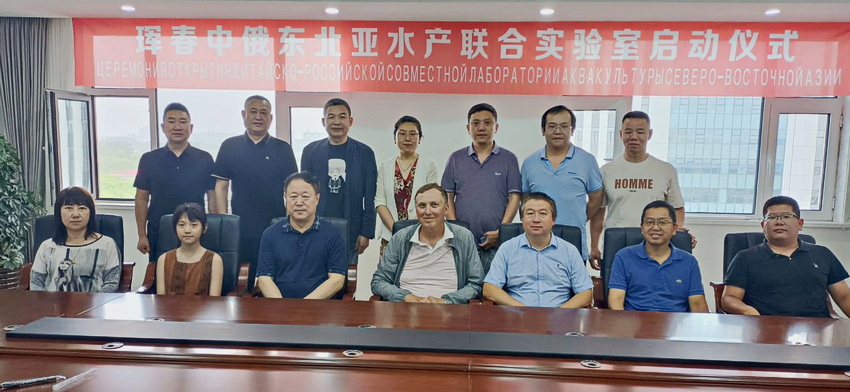 The meeting was held at the base in Hunchun. Premises for the placement of hydrobionts with an area of more than 900 square meters, as well as office rooms were inspected. Objects, proposed by the project for future work of colleagues from both countries, are the mitten crabs (Eriocheir japonica and Japanese panopea), the Far Eastern trepang (Apostichopus japonicus), the bivalves Panopea japonica, the sea urchins (Echinoidea), and the King crab (Paralithodes camtschaticus). During the working meeting, the scheme for water treatment and the scheme for reverse water circulation for purification of sea water were discussed. In addition, the parties discussed the preparation of the Chinese-Russian Conference on the Development of Cooperation in the Fishery Industry (Aquaculture), which will be held in mid-November 2023 in the city of Dalian (PRC).
During the Meeting, the parties reached an agreement on further development of international cooperation for interregional cooperation. Taking the opportunity, the representative of ZONECO Group, Mr. Li Ming, officially invited Ph.D. Sergey Maslennikov and the Director of NSCMB FEB RAS Igor Yuryevich Dolmatov to visit ZONECO.
Earlier, on July 21 of this year, an online meeting was held with colleagues from the College of Fisheries and Biological Sciences of Dalian Ocean University. The parties discussed the development of aquaculture in the both countries; we talked about the current state of joint scientific research, the exchange of information in the field of aquaculture between industry research institutes and fishery industry. The main topic of this discussion was breeding of the bivalve mollusk Panopea japonica in Russian waters for export to China, cooperation in expanding the production of fry of the mitten crabs (Chinese and Japanese) and the sea urchin Echinoidea with export to China.
---
International Cooperation Department